---
Publishing date: 19/9-2023
Experts Live Denmark – Meetup – October Edition – Morning (West)
The agenda for the first meetup after the rebranding is now up on our Meetup page

Want to become sponsor? Contact us HERE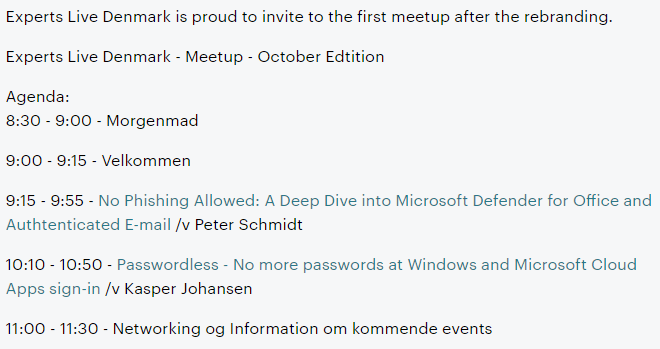 ---
Publishing date: 7/9-2023
---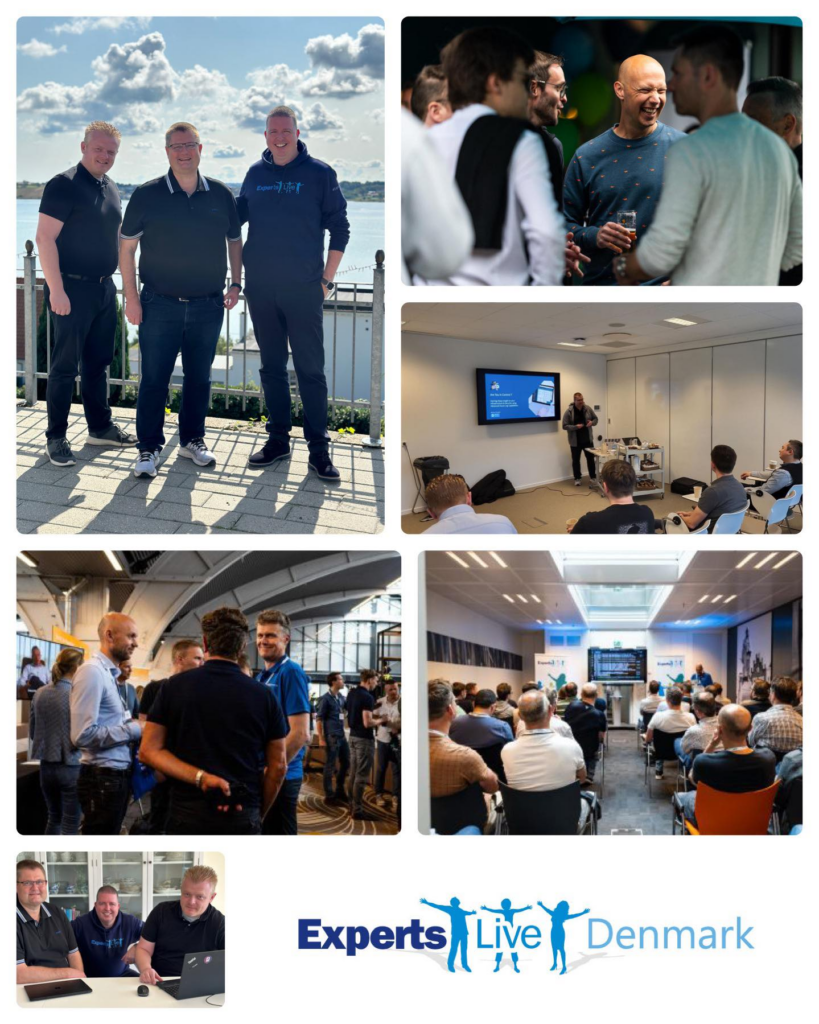 🚀 Launch of Expert Live Denmark⚡️
We are happy to announce the launch of Experts Live in Denmark.

ℹ️ Experts Live Denmark will organize events for the Microsoft community including meet-up's and a yearly large venue event; a great place for you to discuss your challenges and hopefully come home full of great ideas.

👉 The core in Experts Live is to share knowledge at in-person events with the possibility to network with it-peers face-to-face – and have fun😃
🎯 National and international community experts will share knowledge about the latest Microsoft technologies including Azure, Security, Microsoft 365, hybrid and on-prem integrations. As a participant you can influence the topics, we will discuss during the events.

📆 Our aim is to have a physical event approx. every 2 months in different parts of Denmark and a yearly event in the spring. Events are targeted for both morning events from 9-11:30 and afternoon/evening events from 16-20 (combining knowledge and social/dinner)

🗓️ We will announce the first meetings and speakers very soon. If interested, follow us at LinkedIn Experts Live Denmark and Twitter/X @ExpertsLiveDK– and sign-up in Meet-up , which we will use for meeting coordination.
Vi er superglade for at kunne lancere Experts Live i Danmark
Experts Live Denmark arrangerer events, både meet-ups og en årlig konference; et super sted, hvor du kan diskutere dine udfordringer og forhåbentlig komme hjem fuld af gode ideer.

Ånden i Experts Live er at dele viden ved fysiske events med mulighed for at netværke med it community-venner – og have det sjovt.

Både nationale og internationale talere vil dele den nyeste viden indenfor Microsoft teknologier herunder Azure, sikkerhed, Microsoft 365, hybrid og on-prem. Som deltager kan du påvirke emnerne, som vi vil diskutere på disse events.

Vores mål er at have et fysisk event ca. hver 2. måned forskellige steder i Danmark og et årligt event i foråret. Events er planlagt til både formiddags-events fra 9-11:30 og eftermiddag/aften arrangementer fra 16-20 (kombineret viden og hygge/mad).

Vi vil annoncere de første møder og talere meget snart. Hvis du er interesseret, følg op på LinkedIn og Twitter/X – and sign-up i Meet-up, som vi vil bruge til møde koordinering.
---
Publishing date: 1/9-2023

Experts Live Denmark is now live! We went live with expertslive.dk Maarten the founder of Experts live
visited Denmark, what a beautiful day!
Remember to sign up for our newsletter to stay informed on everything happening.
---
Publishing date: 1/9-2023

Team Denmark – Experts Live

Microsoft MVP Security & Azure Hybrid MVP, MCT, Cloud & Security Architect
Morten is Microsoft MVP Security & Azure Hybrid MVP, MCT and holds +20 active certifications. As a Cloud & Security Architect, he is very passionate about Azure Infrastructure, M365, Automation, Security, Hybrid Cloud – and blogs about these topics on mortenknudsen.net. He loves to travel with his family and is a PADI Dive Master & PADI Master Scuba Diver.

Lead Architect, Modern Workplace – Azure and on-prem security – Migration and carve-out
Focus on everyday modern workplace and security. Collaborations with prestigious corporations, esteemed educational institutions, and municipalities across Denmark. Sharing all things Microsoft.

Windows Workspace Architect
Working as a consultant primarily with Microsoft Intune, Conditional Access, Entra ID Protection, Windows and application management and Windows 365. 15 years as a Citrix consultant has given me a solid foundation for providing a great user experience and a high level of security in Windows and applications. I also have a great passion for automation and Powershell.